Diary Dates:
Check out some recent reviews of Pam's courses on the initial Welcome page.
Contact me today to arrange a course, an illustrated talk or individual art tuition of your choosing.
Some ideas:
• Keeping a sketchbook
• Making iPad drawings
• Enjoying Art Treats (a special day as a gift for someone special)
• Visits, views and good places to draw in the Lake District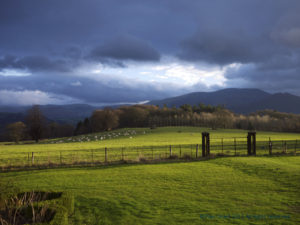 Higham Hall College
Here are my two upcoming courses at Higham Hall, Bassenthwaite.
Ring the college for further information or visit the Higham Hall website to see a course description.
There is a link on my contact page.
Sketching Outdoors, Indoors
10th to 13th March 2020
Winter Sketchbook
12th to 15th Feb 2021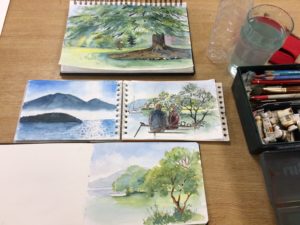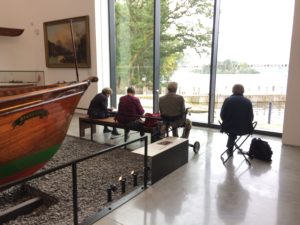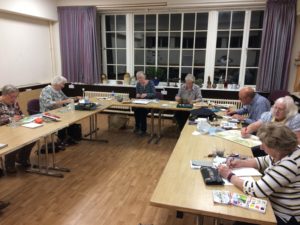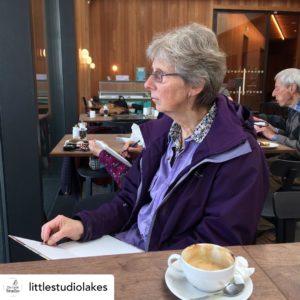 The Create Escape
Heart to Art
Wednesday 12th Feb 2020, 10am – 4pm
As early as the Middle Ages, heart-shaped symbols such as pine cones and leaves were used in paintings, but it was only in the 19th century that the heart came to symbolise a deep feeling of affection and heart-shaped gifts were presented to a loved-one on Valentine's Day.
Pam is an artist and illustrator who has taught adults visual subjects from photography and computer software, to keeping a sketchbook for pleasure. She has bags of experience in helping reluctant artists rediscover forgotten drawing skills. Pam brings her love of design, her inspiration and appreciation of the natural world to this enjoyable and interesting course.
You will have the satisfaction of making a beautiful and unusual keepsake for a family member or friend in just a few hours and well as enjoying an amusing, interesting and sociable activity.
You will learn:
• How to prepare the slate blank 
• What paints and pens you can use
• Tricks and tips to help you create your best design
• What to say in the message
• How to get started on the drawing
• Finishing and protecting the design
• Presentation and display skills
All materials provided.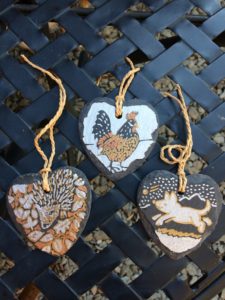 While you relax, learn and enjoy your workshop, Angela and Debs, the owners of The Create Escape, will ensure that you are very well looked after indeed.
"We love creating great food and we love looking after people, so allow us to spoil you."

Included in the workshop is:
Morning coffee/tea with home-made treats on arrival
A delicious two-course lunch with wine
Afternoon tea
And non-stop tea and coffee during the day
You certainly won't go hungry!
Course at The Create Escape, Milnthorpe

#art #illustration #howto #safari #sketching #cumbria #lakedistrict #valentine